Multi-platinum rap rock outfit 311 look to have had some internal conflict over differing political and societal views spill over onto social media in recent days. Judging by the debate raging via the band's Reddit, the right-wing leaning political views and conspiracy theories seemingly expressed by founding drummer Chad Sexton are at the center of the dispute.
With opposing political beliefs having become increasingly weaponized and polarizing in recent years, some of the band's fans were outraged to find out about Sexton's apparent right-leaning political support in years past.
However, it would appear that the full-fledged controversy emerged in more recent weeks, due to Sexton allegedly expressing his interest in an alleged deep state/Nazi purge in the Ukraine, as well as flat earth and other conspiracies via his profile on Truth Social—the fledgling social network founded by former U.S. President Donald Trump.
While Sexton has clarified he is not pro-war, some of the band's fans have found his views on Ukraine and more to at least be incongruent with the long-running band's oft perceived lyrical themes of unity, spirituality and positivity.
The ultimate catalyst for this latest wave of controversy though appears to have stemmed from Sexton's recent backing of the Russian invasion of the Ukraine. Posts like the one below being attributed to him have led to an escalation in outrage from some of the 311 fanbase, and seemingly even triggered some condemnation from one of Sexton's 311 bandmates, vocalist/turntablist Doug "SA" Martinez.
Speaking via Instagram this past weekend, Martinez shared the following poem, which appears to find him questioning the beliefs of his longtime friend and bandmate:
"Where o where did that spirit go tell me holmez do u kno do u kno

we dj'd w/tapes in caves all the college kidz wuz LiT 🔥 we dropped the Doors' peace frog on their behindz n shook them in their choniez i guzzled the firewater poured it down my youth n got stumbly drunk rolled out the piece n stumbled sum more onto my cave wall piss u held me up n laughed told me about it next day n we laughed again

tripped LSD in dormz where I lost myself didn't know my form

n maybe now we r jacked from archaic acid flashbacks

who tf knowz

but somewhere the wirez got crossed n now I feel light yearz lost from a real world cuz how tf can that dude I knew ride 4war

n how the hell do u love someone who prefers to be feared

in sum parallel U that dude snatched a dream catcher from a coed rear view n iz still running wild

i've long forgotten where that old cave liez n no longer can we dance n hide but god if i could i would smash n pulverize the spider that haz snared the drummer in its dark web"
Update: May 04th, 2022 08:24 PM:
While the context has been hazy in light of Sexton's Truth Social profile having temporarily disappeared and reappeared and several posts having being deleted, it has been pointed out that he is said to have at some pointed deleted some of his more controversial posts. In particular the one screencapped above regarding the Ukraine is said to have been deleted. It is also said that he apologized for making that post.
You can see one of his posts regarding that below. Another statement said to have been made late last week regarding the differences of opinion within the band can be found below as well: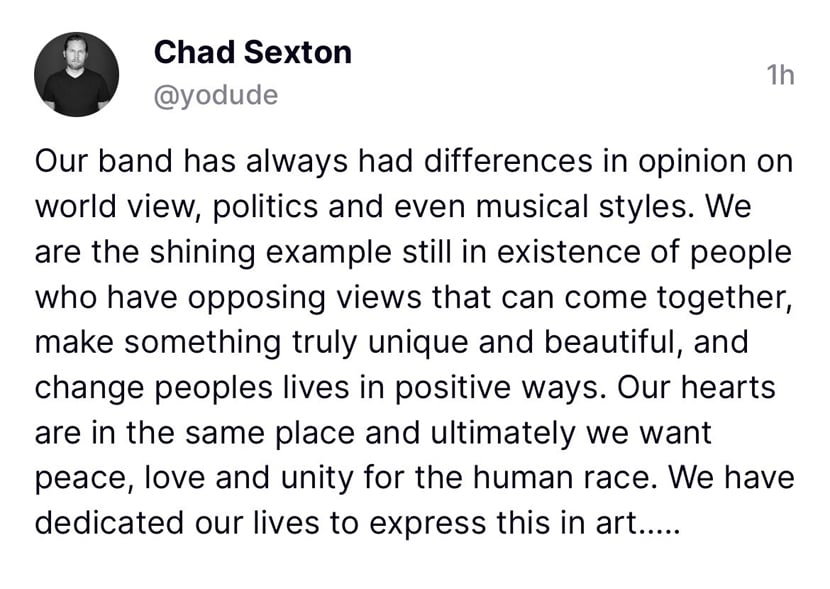 311 are currently gearing up to hit the road for their next leg of touring:
05/12 Ventura, CA – Majestic Ventura Theatre
05/13 Redondo Beach, CA – Beachlife Festival
05/14 Flagstaff, AZ – Pepsi Amphitheater
05/17 Riverside, CA – Riverside Municipal Auditorium
05/18 Monterey, CA – Golden State Theatre
05/20 Reno, NV – Silver Legacy Resort Casino
05/21 Garden City, ID – Revolution Concert House
05/22 Spokane, WA – Knitting Factory
05/24 Missoula, MT – KettleHouse Amphitheater
05/22 Bozeman, MT – The Elm
05/27 Fargo, ND – Fargo Brewing Company
05/28 Superior, WI – Earth Rider Brewery
05/29 Green Bay, WI – Epic Events Center
06/01 Casper, WY – The Gaslight Social
06/02 Sandy, UT – Sandy City Amphitheater
06/03 Englewood, CO – Fiddlers Green
06/05 Grand Junction, CO – Las Colonias Park Amphitheater
View this post on Instagram