Every Time I Die
Radical
2021 Epitaph Records
A radical approach.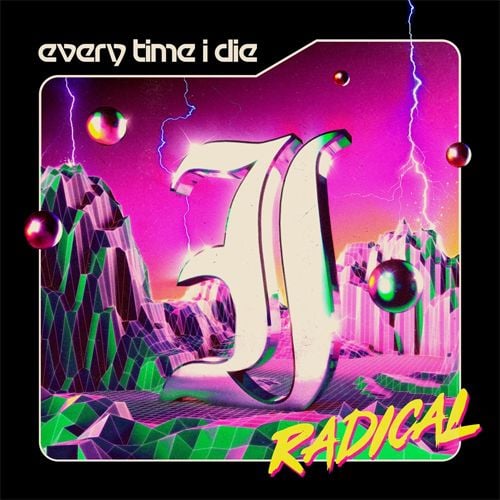 ---
In an odd sort of way, Every Time I Die's ninth studio album "Radical" serves as a musical time capsule. Written, recorded and completed just prior to the full-fledged outbreak of the COVID-19 pandemic, these renowned Buffalo, NY road dogs decided to largely keep the record under wraps until touring conditions (and seemingly society as a whole) stabilized a bit more to their liking.
That said, with 16 songs included, they've unintentionally managed to make up for that lost time, dropping their biggest batch of new material at once to date. With raging anthems like "Planet Shit", it's readily clear that the societal and political division that engulfed the United States and much of the world during the presidency of Donald Trump (and continues to do so for that matter) helped provide some of the accelerant used to spark this aural inferno.
While there are a few instances to the contrary, "Radical" is very much a brazenly heavy affair. The album opens with the track "Dark Distance" and the first words uttered: "Spare only the ones I love, slay the rest" are gut-wrenchingly delivered by vocalist Keith Buckley. It's one hell of a way to set the tone.
Indeed, a feverish performance is delivered by all on this record, allowing the band to lean into some of their early influences, especially on tracks like "Desperate Pleasures", which sounds like it was torn from the same tapestry that Converge have scrawled their writhing discography on. That song is in particular an utterly punishing display of the band's wanton rage and a welcome addition to Every Time I Die's already stacked arsenal of barn burners.
Elsewhere, Josh Scogin of '68 lends some essential gravitas to "All This And War", bolstering it with a feral display of verbal menace that recalls his time fronting The Chariot. There's also a few curveballs to be found, in particular "Things With Feathers": a emo-reminiscent ballad that straddles Americana with guest vocals from Manchester Orchestra's Andy Hull.
"Hostile Architecture" meanwhile turns the dial back a few years, recalling the swagger of the band's younger years. It's also one of the more propulsive hardcore-oriented offerings served up here, complete with the ironic refrains of "I'm sorry" repeated over and over again, before "but what did I do wrong?" is ironically belted out as an afterthought.
In many ways, much of Every Time I Die's music, and in particular the lyrical content of Keith Buckley, has been reactionary. Buried amidst clever metaphors and crafty turns of phrase that put him leagues ahead of the majority of his peers, he mines his own personal experiences, frustration and pain to continue to deliver a master class on ingenious wordplay. But here more so than usual, he manages to translate those experiences into more universal themes.
As you might expect, "Radical" also finds him serving up an album's worth of spirited lines. Keeping pace with his past output, multiple listens continue to reveal another sharp-tongued lyrical riddle to obsess over.
The ever-present dueling power tools approach of guitarists Jordan Buckley and Andy Williams also remains fresh and chaotic, with face value discordant riffs somehow managing to coalesce into a dangerously sharp framework. And the rhythm section underneath remains as combustible as ever. A ripping listen from nearly start to finish, "Radical" is a caustic highlight among the band's already celebrated catalog the balances having fun with the requisite amount of outrage.
There's still a lot of nuance to be found, and experimentation is encouraged. The disconcerting haunting ambiance of album closer "We Go Together" and the interesting layering found elsewhere certainly display growth. However, given the unique set of circumstances we find ourselves in, this record also falls victim to some early mileage. Given that the band began airing material from it live and online over a year ago, you may find yourself skipping a handful of tracks due to having already worn them out.
Given the average shelf-life of a late 90s/early 2000s metalcore/hardcore band, Every Time I Die should have called it quits years ago and been doing the occasional victory laps at festivals by now. But here we are, over two decades into their career and they're still delivering some of their most spirited and abrasive tracks to date, all without sacrificing any of the spark or verve of their younger years.
Buy it now on Amazon | Apple Music
- Advertisement -