Tigercub
As Blue As Indigo
2021 Blame Recordings
Feeling the blues.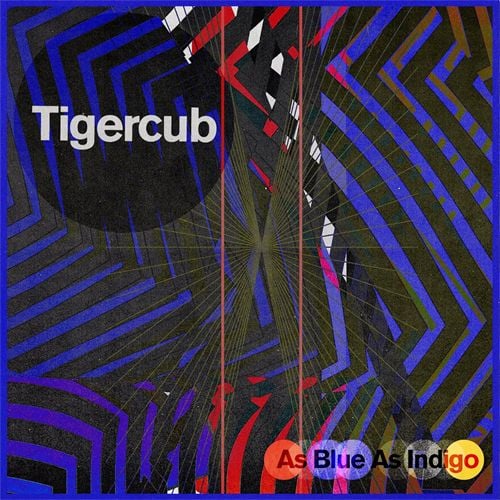 ---
Tigercub set a high bar for themselves with their criminally overlooked debut album, "Abstract Figures In The Dark". A stunning mixture of Failure's pensive space rock, Queens Of The Stone Age's lovelorn troubadour anthems and the occasional belch of screeching grunge, it's not surprising it took them roughly five years to deliver a proper follow-up.
Sure there was the case of the frontman Jamie Hall's Nancy solo project having taking up some considerable time in the interim. And it's not like there was complete radio silence either as Tigercub left ample breadcrumbs via a handful of singles and an EP in recent years.
But even with those sneak peeks "As Blue As Indigo" does serve up a sizable leap. It finds Hall (who serves as the primary songwriter) and co. emerging as a sleeker, more modern sounding rock band. While not overtly commercial, the songs have both poppier hooks and thicker riffs (where applicable.)
The Queens Of The Stone Age influence still remains a cornerstone of their craft, but the band find ways to put their own spin on it, adopting the swagger and slick riffs while leaving behind the boogie and the sun scorched quirk. Outside of that there's also traces of Muse's progressiveness, some Jeff Buckley-reminiscent wanderlust and the snarky minimalism of Death From Above 1979 seemingly lurking about as well.
The song "Sleepwalker" emerges early on as an outright highlight. Harboring a commanding riff that lurches under a floaty melodic vocal performance, it's unification of reptile brain riffing and delicately introspective vocals are hauntingly infectious.
Elsewhere, soulful tracks like "Beating On My Heart (Like A Bass Drum)" are about as catchy as one can hope for from a modern rock n' roll album. What separates the band from the dreck of rock radio though is their honesty and eagerness to experiment.
Hall now seems able to look back on the emotional hang-ups and obstacles life has put in his way with understanding, rather than lamenting or steering around them. His ability to do so has fueled both his personal growth and forged him into a more confident songwriter.
Be it the spindly woe of the sparsely woven ode to his late grandmother "Funeral" or the creeping elements of grunge that worm their way into the lethargic soft rock thump of "Built To Fail", he ensures the band don't adhere to any particular mold.
That's not to say the record is without faults though. If not for the more guarded vocal performances,  songs like "Beauty" and "As Long As You're Next To Me" could easily be mistaken for entries on recent Queens Of The Stone Age records. That said, you've still got to appreciate the songwriting choices taken here.
It's true that fans of "Abstract Figures In The Dark" may take issue with the brighter sound and slicker approach found on "As Blue As Indigo". A friendlier record on nearly every level, it comes jam-packed with ambition. There's some shortcomings to be sure, but with an auditory palette this extensive it's easy to overlook them.
Buy it now on Amazon | Apple Music
- Advertisement -