The 2024 'Welcome To Rockville' festival lineup was announced today and will find the Foo Fighters, Slipknot, Mötley Crüe and Limp Bizkit in the headlining spots. Next year's edition of the annual festival will take place at the Daytona International Speedway in Daytona Beach, FL from May 09th to 12th. 150 bands in total have been book to play the festival, which has newly been expanded with a fifth stage.
On an interesting note, the festival also finds ex-Slayer guitarist Kerry King set to perform with his new solo band, which appears to be billed by his actual name. You fan find the daily lineup breakdown for the festival via the below admat. Chamie McCurry, CMO at the festival's promoter Danny Wimmer Presents commented:
"Welcome To Rockville isn't just a music festival, it's where the magic of rock meets the essence of community, creating an unforgettable experience that resonates with fans around the globe. 2024 marks an exciting year for us as we have our biggest lineup ever with over 150 bands (50 more than in 2023)! We'll be welcoming Mötley Crüe to the Rockville community for the first time, celebrating 25 years of Slipknot, 50 years of Judas Priest, the return of Foo Fighters, and so many more must see moments!"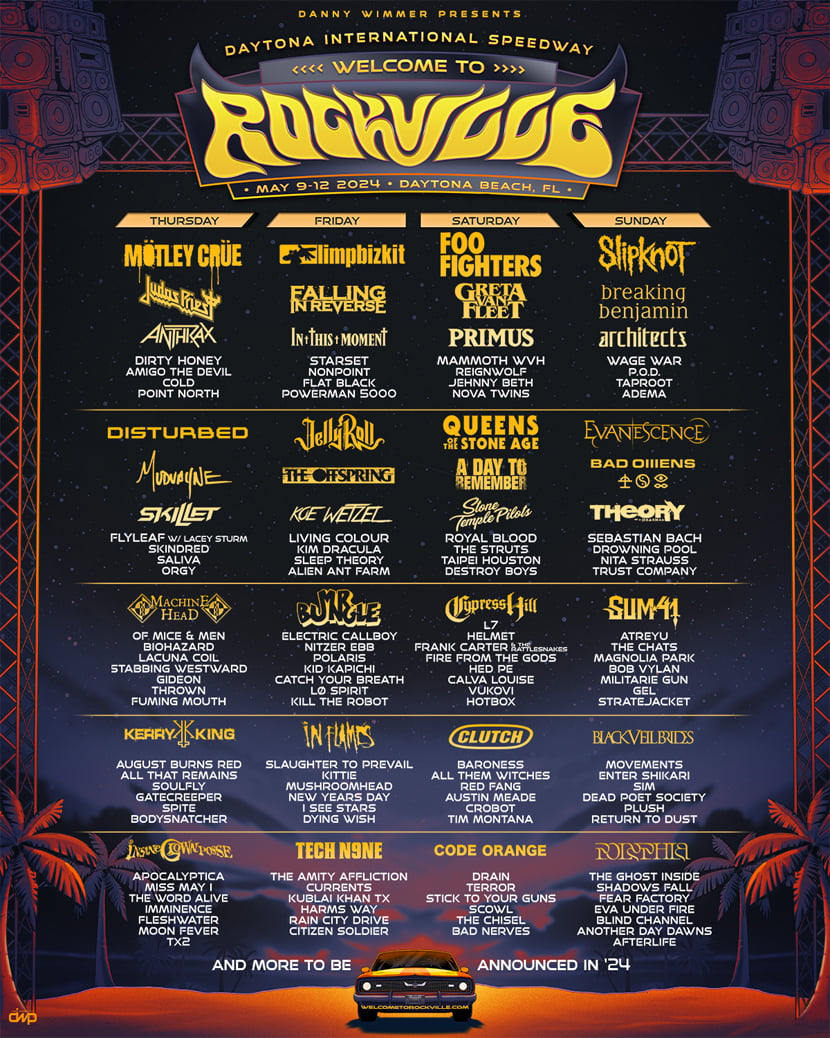 Further artists will be revealed for the festival in the new year. In addition to the various musical performers, amusements rides, a water slide, art installations and more will be featured at the fest. More info can be found over at welcometorockville.com.