Fear Factory
Aggression Continuum
2021 Nuclear Blast
Up to code.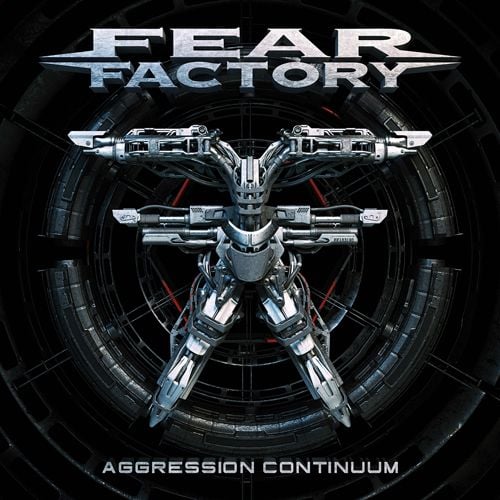 ---
On the first listen of Fear Factory's tenth studio album "Aggression Continuum" it's hard to sort the substance from circumstance. Originally recorded back in 2017, it has since been saddled with a considerable amount of baggage that weighs down its first impression.
Of course there's the acrimonious departure of vocalist Burton C. Bell that went down late last year and the since resolved long-running legalities between current and former members of the band (guitarist Dino Cazares now has 100% control of the group.)
Then there was guitarist Dino Cazares' crowdfunding campaign to add actual human drumming and update some of the parts that was labeled a 'scam' by Bell. Beyond that there's the bittersweet choice made by Cazares to continue the band with a new vocalist in the months that come.
As such, you've basically been pre-programmed to subconsciously pick apart the album for bits and pieces of all that drama, only to have to remind yourself it had been 'completed' long before the majority of those issues arose.
Such as it is, "Aggression Continuum" doesn't sound like two bandmates firmly at each other's throats or a towering swan song for Burton C. Bell. It just sounds the logical next step for the band after 2015's "Genexus". But that's not to say it charts the same path.
This record asserts itself early on as a more, ahem, aggressive venture, defiantly shifting away from the increased presence of melody found on its aforementioned predecessor. Sure there's the futuristic dystopian elements, right down to 'Terminator' and 'Mad Max' samples/inspiration. Cazares' gnarled thrash-informed riffs are also front and center, mechanically locking in with Mike Heller's punishing double kick drumming.
On top of that, there's the requisite whir of electronic atmospherics weaving in and out like an angry swarm of nanobots as well as the occasional symphonic flourish. Vocalist Burton C. Bell himself readily adapts to these changes, sounding particularly vicious throughout the majority of the record.
Admittedly the included bass playing doesn't do much to stand out, but when it comes to industrial metal, does it really have to? Percussion, riffs and programming are king here and the drumming in particular ensures all the gears keep turning. While largely a welcome return to the band's heavier fare, "Aggression Continuum" doesn't see too much in the way of revision sans a few exceptions.
Among them are the triumphantly melodic chorus in "Manufactured Hope" that's regimented tightly enough to recall the dynamics that made the band such a standout act on "Demanufacture". Also notable in the chorus department is the tribal cadence found in the title track. Recalling that of Soulfly, it makes you wonder if Tony Campos' time in Fear Factory hadn't rubbed off on Bell and Cazares.
As for Cazares, his playing remains consistently punchy throughout. Perhaps his best showcase though arrives on "Monolith", which finds him cutting loose with some shreddy soloing that is shockingly virtuosic in contrast to the Fear Factory canon.
As it stands now, "Aggression Continuum" marks the end of the Bell's involvement in the band. As the group's sole constant throughout much of its storied 30-plus year career, his departure casts a shadow of uncertainty over this record—Especially when its heavier bent will likely be welcomed by the band's diehard fans.
But for an unintentional farewell Bell shouldn't have any regrets when it comes to his performance here. There's not much in the way of outright risk taken, but the beefier output of the band at large will certainly appeal to a large chunk of their fanbase.
"Aggression Continuum" isn't a record that will redefine Fear Factory's legacy by any means, but it certainly doesn't diminish it either. It's almost anti-climactic in a sense of how pivotal it has become in the band's career, but once again: substance and circumstance.
Buy it now on Amazon | Apple Music
- Advertisement -