Static-X
Project Regeneration, Vol. 1
2020 Otsego Entertainment Group
Resurrected in static.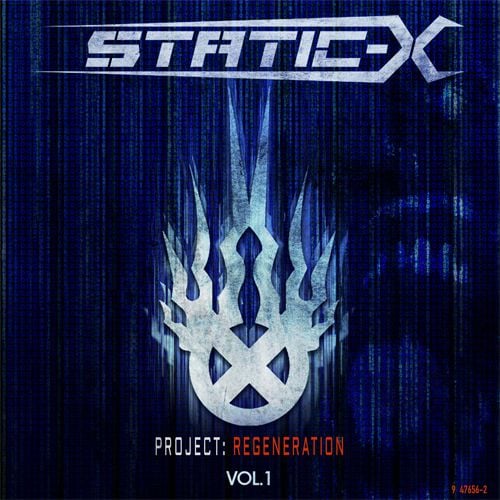 ---
Even in the world of metal, few bands have a legacy as complicated and chaotic as that of Static-X. Rising to prominence early in their career on the success of their platinum-selling debut album "Wisconsin Death Trip" and its gold-certified follow-up "Machine"; substance abuse, personality conflicts and eventual legal in-fighting would lead to the band's undoing, leaving frontman Wayne Static to strike out under his own name.
Though he would temporarily return to touring as Static-X afterwards, that run would come to an end amid further alleged legal clashes with former members. He would ultimately go on to tour under his own name until his 2014 death from ingesting a fatal mixture of prescription drugs and alcohol.
Sandwiched amid that mess was the publicized firing of guitarist Tod Rex Salvador (aka Tripp Eisen) in 2005. Salvador was ejected from the band after being arrested for having sex with an underage girl. He would later go to prison for those charges.
This roughly catches us up to now, where Wayne's bandmates from Static-X's first two albums, bassist/vocalist Tony Campos, guitarist Koichi Fukuda and drummer Ken Jay reunited the band. To complete their lineup they enlisted a mystery frontman dubbed 'Xer0' in place of Static. Long thought to be Dope's Edsel Dope, Xer0's identity has yet to officially be disclosed.
This latest incarnation of the band toured throughout 2019 on the 20th anniversary of "Wisconsin Death Trip" while also working on this, the first of two albums built from the ground up around the unreleased vocal recordings left behind by Static.
A solid chunk of the vocal tracks featured on this first volume are said to have emerged from the "Shadow Zone" and "Start A War" period and their usage makes for an interesting juxtaposition.
On one hand, the lion's share of the instrumental portion of material captures the four-on-the-floor 'Evil Disco' the band rose to fame with early on. Even the production of a returning Ulrich Wild hails to those glory days. However, the vocal performances chosen showcase the then burgeoning melodic range of Static found years later.
There's many familiar creature comforts to be found in the way of throwback samples from early outings, erratic programming and clips of dialogue thrown in, all of which hem close to the earlier vision of the band. But there's also a touch of modernity present as well. To get here Campos, Fukuda and Jay didn't work alone though.
Former Dope bassist Nikk Dibbs has credits on four tracks. Mushroomhead guitarist Tommy Shaffner also has credits on two of the songs, while Xer0 is credited as having performed throughout the record.
Ministry frontman Al Jourgensen is cited as the only proper guest, lending his voice to the  contrastingly dirgy closing track, "Dead Souls" (no, it's not a Joy Division cover).
If you're wondering, the disgraced Salvador also has some credits on the tracks "Hollow", "Bring You Down" and "Something Of My Own"—presumably due to his involvement with originally writing them years before this project.
While we'll never truly know if Wayne would have been happy with the way these songs turned out, it's clear that his returning ex-bandmates have done their best to honor both his legacy and that of the group. Everything included here sounds very much in the Static-X canon, with the dancy industrial flair, faint nü-metal nostalgia and Static's trademark vocal stylings lurching and lunging to the beat.
Perhaps the purest distillation of that early output is "Terminator Oscillator", a staccato-led track which could almost fit on "Wisconsin Death Trip". It's not all noteworthy though, as seen on tracks like "Follow", which feels as though it was stitched around Static's less-inspired scraps.
Ultimately, on "Project Regeneration Vol. 1" finds Static-X returning to what was arguably the strongest output of the band, even if there is a lurking sense of disconnect. Given the circumstances, it's an impressively cohesive feat to have pulled of.
There's always going to be potential concerns about not being able to hear Wayne Static's guiding hand and what he had intended for these tracks.
The idea of resurrecting the band without him certainly left many questioning the intentions behind the move. That they've since decided to continue touring past the "Wisconsin Death Trip" anniversary also presents some more questions.
But for what it's worth, on "Project Regeneration Vol. 1" Static's former creative partners have clearly done their best to ensure this album sounds not just like Static-X, but the Static-X that put the band on the map.
Buy it now on Amazon | Apple Music
- Advertisement -