Korn
The Nothing
2019 Roadrunner Records
Nothing from something.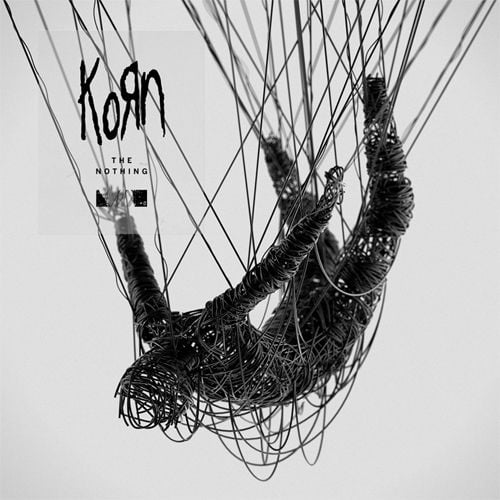 ---
If you've followed Korn since their origin, there's a good chance that you intentionally skip over at least a few entries in their now 13 record catalog. Let's face it, the band have donned many hats since inadvertently pioneering the nü metal genre and not every one of them was exactly memorable.
From the overwrought melodrama and questionable bloat that plagued their early to mid-2000s output to their largely forgettable attempt at reclaiming their roots and the deep dive into dubstep that followed, the band haven't always stuck the landing—even if their attempts were admirable. Since reuniting with guitarist Brian "Head" Welch back in 2013 though, Korn have been experiencing a renaissance of sorts.
"The Nothing" is currently the peak of that upward trend when it comes to the proverbial trilogy of records delivered since Welch's return, standing as their most potent since 2002's "Untouchables". While a lot of that can fall on the shoulders of the emotional heft frontman Jonathan Davis channeled into this album while mourning the August 2018 death of his wife Deven, his bandmates also manage to stand out.
Opening with an unsettling interlude of bag pipes and tumbling percussion, Davis repeatedly questions "Why did you leave?" before ultimately shattering into a sobbing heap. It's an odd way to start an album, but given the circumstances surrounding this record, it's probably best to get the most emotional moment out of the way first.
As such, the group quickly shift gears with a sputtering rhythm section and the staccato guitar lunges of "You'll Never Find Me". "Idiosyncrasy" follows soon after, commencing its assault with a riff that sounds like a combination of vintage Slipknot and Pantera. While a buoyant display of melodic chorus prowess eventually steals the spotlight on that track, the collapse into a vicious lurch as Davis repeatedly cries out "God is making fun of me" certainly changes the mood.
Elsewhere, "The Ringmaster" lets a gnawing riff chart the course for two mirrored, yet intentionally different vocal takes, effectively allowing Davis to express himself via separate emotional states in one go. That track also finds the band launching into one of the album's heavier breakdowns, complete with the scat/beatboxing that Davis indelibly made his own decades ago.
Shifting gears, "Finally Free" dips its toes into some retro 80s songwriting traits, with a poppy vocal throwback technique catching the ear amid a shifting sea of electronically augmented harmonies.
Also notable is "H@rd3r", which finds the band once again wading into experimental waters. Sparse vocal effects & lush ambiance set up the brief return of a nostalgic funky bass part atop a jungle breakbeat that recalls some of the group's earliest works.
Leaning into their growing confidence even more, "This Loss" finds the band riding out an ethereal melody and forceful waves of punchy aggression before Davis goes full-on Mike Patton, practically crooning through one of the record's most surprising moments.
Davis has said in the press that "The Nothing" was a way for him to deal with the 'dark energy' that follows him. Indeed the personal tragedy he experienced during the making of this album also seemingly leaves little to be interpreted when it comes to the lyrical content. That said, "The Nothing" isn't as raw nerve as you might expect given Davis' track record and mostly finds him processing and weaponizing his grief rather than being crushed by it.
As with most modern Korn records though, not everything is entirely peachy. There's a rather frustrating tendency for the band to quickly bury their most interesting moments, relegating them to a breakdown or bridge while riding out the rest.
Sure, the Korn of 2019 are obviously more polished musicians and 'play' more traditionally than the Korn of the past. There's no need for them to continue emulating the cacophony of chopped up hip hop samples with their heavily downtuned instruments.
But in some ways their more standarized approach to songwriting can also shoot them in the foot. There's truly some classic 'Korn' sounding ideas here that are barely given enough oxygen to breathe. Luckily there's also enough grooves and memorable hooks to potentially win over some of the more jaded fans of the band.
While it's admittedly hard to separate this album from the trauma and grief that helped shape it, "The Nothing" is remarkably balanced overall. Thanks to a welcome return to heavier pastures, it recaptures some of the band's past glory without sounding forced. That it also retains the hallmarks of the continued evolution they've worked towards on their more recent outings suggests they may be on the right track.
- Advertisement -