Mastodon
Cold Dark Place
2017 Reprise Records
Finding a place for the b-sides.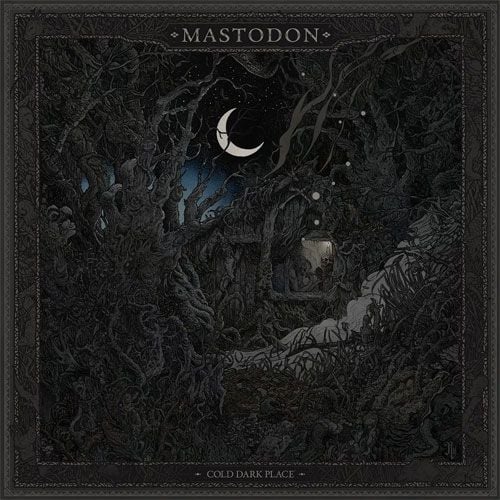 ---
"Cold Dark Place" is an anomaly when stacked up against the rest of Mastodon's rather esteemed catalog. An EP featuring 3 tracks ("North Side Star", "Blue Walsh" & "Cold Dark Place") written during the sessions for 2014's "Once More 'Round The Sun" and another ("Toe To Toes") held over from 2017's "Emperor Of Sand", it sits a bit out of place alongside the band's more conceptual bodies of work.
When vocalist/guitarist Brent Hinds first began to discuss the effort to the press, he had envisioned it as a solo release, citing "a nasty breakup" as the inspiration. His bandmates are still present here however, even if his fingerprints are the most prevalent. However, given that context, there certainly is a lovelorn quality to the songs; A lingering sense of longing and confusion that pushes the band to some dark places.
The opening track "North Side Star" is an odd beast. Though the lengthy initial half is essentially a slow burning acoustic tinged descent with ringing slide guitar licks, its eventual pivot into a comparatively raucous upbeat groove aided by additional percussive instrumentation and some skronky soloing blasts it into another atmosphere. In a sense it's like a more prog oriented take on what The Mars Volta might deliver had they not been engulfed in spicier psychedlia.
"Blue Walsh" takes on a more ethereal bent, though the raunchy Southern twang found in the guitar tone gives it a gritty anchor. The majority of the glacial track finds the group sounding as though they have been jettisoned through an endless void, as weighty melodies wallow with the heft of pained reflection.
"Toe To Toes" notably steps out from the pack, and feels like a modern day Baroness track, with it's uncharacteristically upbeat approach, spiraling guitar riff and bouncier tempo. It proudly sticks out from the rest of the material featured on the effort as a bit of an ugly duckling that may rub some the wrong way.
The closing track, "Cold Dark Place", casts some haunting guitar work to the forefront, with spectral sounding slides, effects and acoustic notes clouding around a vulnerable vocal performance from Hinds. It's a dusty, pensive track that would likely end up a full-blown ballad in the hands of most bands. Mastodon however keep it progressive enough to avoid a sappy nosedive.
As a sum of its parts, "Cold Dark Place" feels more like some torn pages from a sonic diary than a traditional Mastodon release. Its pacing is a bit off, and you'd expect the buoyant "Toe To Toes" to close out the effort, rather than the heavy hearted title track—Hinds is now a happily married man after all.
That said, while not an essential addition to the Mastodon discography, the release does earn its place at the table. It also has some adventurous ideas that warrant further exploration, with the beefed up percussion found in the opening track begging for a revisit later down the line.
- Advertisement -