Revocation
Revocation
Relapse Records 2013
Breaking through the wall.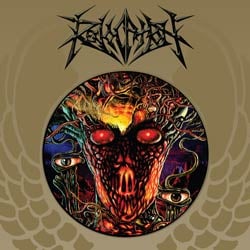 ---
Renowned for their instrumental ability, Revocation's collective skill and technique has already earned them numerous accolades. Enough so that pointing out that this latest effort is once again a near clinical display of speed and finesse should be of little surprise.
Armed with a fret searing mixture of blitzkrieg thrash and finely sharpened death metal, their approach is akin to a flurry of jabs to the solar plexus. Fast and technical is the bands comfort zone and it is this mindset where they do their most damage—even if the songs are generally bursting with more ideas than they can capably manage.
While the implementation is routinely scatterbrained, there are intriguing tangents utilized to great effect; including the all too brief banjo that kicks off "Invidious" and the acoustic freefall outro of "Arch Fiend". A frenetic and punishing listen, it's a bit of a shame then that the times like those mentioned above where Revocation fully step out of their shell is often merely as a brief aside.
To incorporate these disparate parts in a more inclusive way throughout the entire respective song would certainly give the album a welcome compliment to the unyielding shrapnel-laced riffery—even if it meant sacrifices had to be made when onstage.
Making his presence felt, new bassist Brett Bamberger's (ex-East Of The Wall) elastic style and chunky tones certainly beef up the bands approach. His low end eruption on the Lamb Of God-leaning "Fracked" sees him firmly stepping out from behind the guitars shadow; while also adding an enticing progressive slant.
Oddly his talents aren't always utilized to the fullest measure though. A somewhat disappointing turn when it feels like the bands brightest moments are those where he is given as much free reign as his six stringed brethren.
That said, with its flaws largely superficial, it's hard to describe this self-titled affair as anything less than a shredders paradise. Brazenly technical and passionately creative you can tell the band firmly believe in what they're doing.
They've effectively taken genres weighed down by nostalgia and brutality contests and breathed new life into them through passion, creativity and above all, conviction.