Failure
In The Future
2018 Failure Records
What comes next?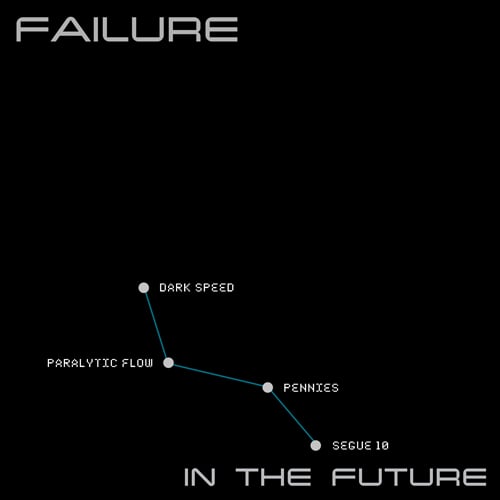 ---
After their career was criminally cut short due to drugs, in-fighting and label politics back in the mid 90s, Failure's triumphant return in 2015 with "The Heart Is A Monster" was hailed as a dream come true by many.
That the album proudly stood beside the impossibly high bar set by their previous work was even more astonishing. With the pressure of answering for a nearly 20 year absence removed this time around, the band have taken a more relaxed approach when it comes to their next release.
To that end they are putting out a series of EPs that will culminate in a full-length album later in the year. This four song EP, "In The Future", kicks off the series, giving fans an all too brief taste of what's next.
Ironically, given its title, "In The Future", doesn't exactly paint the clearest picture of what's to come. Opening track "Dark Speed" burrows deep and recalls the more grounded roots of the band's earlier days. It features a spoken word/confessional styled vocal delivery that recalls the more modern fare of Trent Reznor and is particularly quirky for a band now acclaimed for grandiose space rock.
It's followed by "Paralytic Flow", a song which hews closer to the Failure found on the band's recent endeavors. Dragged along by a sinewy bass line and spindly guitar harmonics, a crystalline environment is carved out for the rich emotive croons of Ken Andrews to weave through.
"Pennies" meanwhile gets resurrected from the band's earlier works, having originally been widely released on their 2004 rarities set, "Golden". Notably it's not the first time the band have mined their orphaned tracks as fellow oldie "Petting The Carpet" also made its way on to "The Heart Is A Monster". Much like that latter track, "Pennies" returns more fleshed out with the addition of fuller production, keys, etc. and winds up sounding fully realized.
Of course it wouldn't be a Failure release without a segue and the one that closes this outing ("Segue 10") continues the band's trend of hauntingly beautiful instrumentals. Outside of the grand scheme of the album however, the instrumental does seems a touch obtrusive on repeated listens.
Ultimately, with a segue and a resurrected song included, the brevity of the two new songs featured leaves "In The Future" feeling a bit threadbare—especially considering the ravenous hunger of diehard fans after enduring a nearly 20 year wait for the group's prior album.
There's no denying the talent and majesty of Failure and it's on full display here. But the proverbial dearth of truly 'new' content suggests that this chunk of songs would have served better as a mid-series release, rather than the introductory bow.
Buy it now on Amazon
- Advertisement -