DevilDriver
Winter Kills
Napalm Records 2013
Caught in a groove.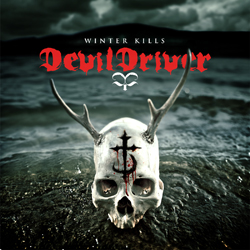 ---
A victory lap with Coal Chamber behind him; DevilDriver frontman Dez Fafara has once again put to rest his nu-metal persona and gotten back to modern pursuits. "Winter Kills" finds Fafara and co. returning their gaze to all things groove, delivering a chunky, thick assault on the senses. One—which much like Lamb of God—proves yet again that rhythm can be just crucial as riffs.
"Winter Kills" by no means lacks on shred however. But even with a dual axe attack, the constant tilling performed by the bands rhythm section is what dictates the pace. As such, the battery of scorching leads and chugging riffs alternate with their lowend compatriots for the lead. This unstable mixture enables a fluid instrumental democracy in a genre where guitars are often given free reign.
A few ripping solos aside, a tenuously fair balance is struck with the group often working as one. Overtop of this molten ecology is Fafara's relentless guttural screaming. Although limited in range, he more than capably belches out a stream of sandblasted larynx diatribes.
DevilDriver are a band that know their strengths and fortify them. This is a divisive quality, as once they hit their stride, they rarely break it. Groove is king and aggression is law. Even the melodic strains that linger about slower tracks like "Curses And Epitaphs" aren't enough to stall the momentum in any substantial direction.
That DevilDriver choose to work as a unit and routinely stay confined to their chosen medium is their double-edged sword. Aside from an oddball cover of AWOLNATION's "Sail" that closes the album; this release stays bent on visceral destruction and bulldozes over everything else.
- Advertisement -