Lamb Of God
Resolution
Epic Records 2012
Defined violence.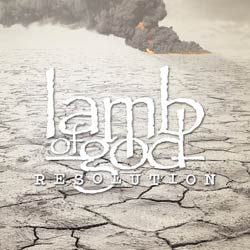 ---
Taking the majority of 2011 off to decompress and focus on "Resolution" has distinctly changed at least one of the core fundamental aspects of Lamb Of God's sound. With past releases there always seemed to be a sense of pressure and inner turmoil. A tension wrought by the lack of any solitary isolation thanks to the persistence of confined quarters and perpetual career momentum.
This time spent away and its afforded ability to write individually has given the band a quality they lacked on prior releases — that being space. While in some ways this open-ended nature of the bands songs can work against them, it certainly enables a more developed and expansive listen.
True fans may miss the caustic claustrophobia exhibited in the past. But "Resolution" readily allows the group to express themselves with a newfound clarity. This in turn ensures a sharp overall vision ecompasses a release that is thick on sludgy groove and vicious riff-led onslaughts.
Certainly the overall approach of their craft is as raw as ever; even with there being a lot more thought and ambition in place behind the song structures. Nowhere is this more evident than the inclusion of an orchestra and female opera singer (Amanda Munton) on the closing track, "King Me".
With vocalist Randy Blythe's acerbic malevolence seated firmly at the front; salvo after salvo of ornery Southern thrash-tinged riffs are free to whizz around him like bullets on a battlefield. But equally as important in this equation is the the animated rhythm section, which capably tempers double kick laden chaos and unbridled energy into a highly fluid performance. Drummer Chris Adler in particular has evolved past the crutches of his earlier days to become quite the lively percussionist.
Indeed, "Resolution" bears all the hallmarks of a classic Lamb Of God release. However, it can still suffer at times from top-heavy ideas and a distinct feeling of uniformity. At this stage in their career the band have firmly defined their creative boundaries. As bold as the idea of an orchestral component may sound on paper, the end result isn't exactly genre-defying or even that shocking.
A few spoken word verses and the startlingly clean sung passages on "Insurrection" break up the driving assault of metallic bliss on display. But even so some may be left feeling that despite its outward steps, "Resolution" is touch too comfortable in the bands catalog.
Thus in many ways "Resolution" remains a "take it or leave it" Lamb Of God album. It's intended steps forward may feel oddly subdued; yet its inherent rawness and instantly definable aggression give little reason not to wholly enjoy it. Sometimes good old fashiond violence is all you need.
- Advertisement -