A March 08th release date has been set for Misery Index's new album "Rituals Of Power". Season Of Mist will be releasing the album with the band commenting:
"'Rituals Of Power' is a disavowal and warning against the consequences of our so-called 'post-truth' age. Each of the 9 songs revolves loosely around this theme, yet each track also stands very much on its own.

It's roughly 35 minutes of unhinged, yet cohesive, riff-driven aural ballistics. We set out to write the best album we could, based on what we would want to hear first as fans of this music, and we could not be happier."
Recording sessions took place with Erik Rutan of Hate Eternal at Mana Recording, Ryan Vincent M at Apollo Audio Alternative and Valtteri Kallio at Soundwell Studio. Will Putney (Every Time I Die, Thy Art Is Murder) mixed and mastered the release. Below you can find Raphael Gabrio's cover art for the release as well as the track listing.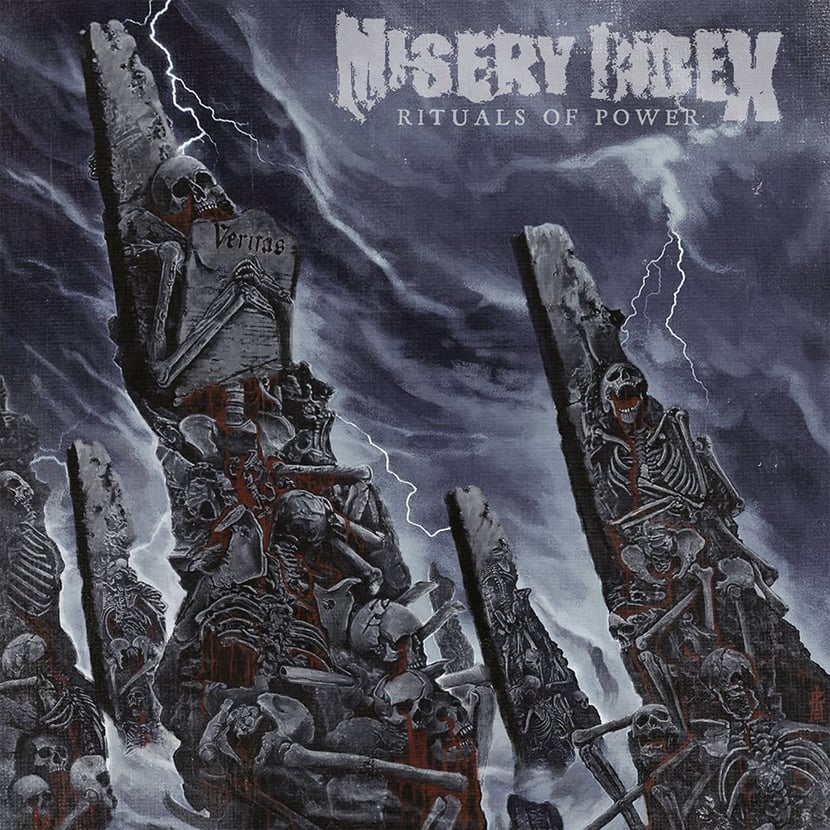 01 – "Universal Untruths"
02 – "Decline And Fall"
03 – "The Choir Invisible"
04 – "New Salem"
05 – "Hammering The Nails"
06 – "Rituals Of Power"
07 – "They Always Come Back"
08 – "I Disavow"
09 – "Naysayer"
In other news, the band have announced the following European tour with Wormrot and Truth Corroded:
03/23 Heidelberg, GER – Heidelberg Deathfest
03/24 Nurnberg, GER – Z-Bau
03/25 Wien, AUT – Escape Metalcorner
03/26 Brno, CZE – Melodka
03/27 Dresden, GER – Chemiefabrik
03/28 Kassel, GER – Goldgrube
03/29 Berlin, GER – Cassiopeia
03/30 Eindhoven, NET – Grindhoven
03/31 Munchen, GER – Backstage
04/01 Zurich, SWI – Werk21
04/02 Segrate, ITA – Circolo Magnolia
04/03 Genf, SWI – Usine
04/04 Paris, FRA – Glazart
04/05 Sint Niklaas, BEL – De Casino
04/06 Essen, GER – Turock