Turnstile
Time & Space
2018 Roadrunner Records
It's about time.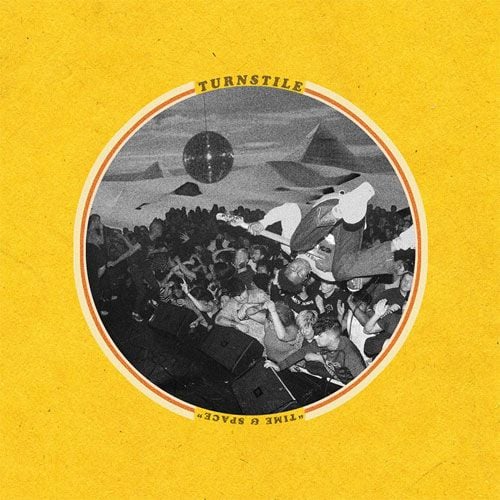 ---
Turnstile have developed somewhat of a complicated reputation amidst their roughly 8 year career. Sure, they've already made some big strides to ensuring a bright future; Alongside Code Orange the band are generally seen as a youthful shot in the arm for the Roadrunner Records roster and the heavy music scene at large.
However, there are those who feel the band's flagrant disregard for hardcore conventions goes too far. While 2015's "Nonstop Feeling" was generally well-received, it also had a sizable share of detractors—particularly for the songs that recalled Rage Against The Machine and the frat boy friendly rock of 311.
With "Time & Space", the band have wisely put some distance between themselves and those influences, instead focusing on crafting concise hardcore punk with a soulful hue. In essence what this amounts to is a lively crossover of punk's urgency and hardcore's aggression with some surprisingly inviting melodies.
At its core, "Time & Space" brandishes a tenaciously raw nerve take on hardcore punk with a commanding NYHC bent. You'll also find some post hardcore dalliances, while frontman Brendan Yates could quite easily fill-in at a Snapcase show. But there's also the more adventurous vocal melodies of bassist Franz Lyons at play. His invitingly strong performances recall TV On The Radio's Tunde Adebimpe and add a graceful element of indie soul.
Though many of the tracks are straight-forward, it's when Franz is implemented that the music stands out the most. His endearing performance on "Moon" in particular serves as a glowing spotlight of his abilities and the band's willingness to take a risk.
While this key dynamic may be the most invigorating element of "Time & Space", it's certainly not the only thing that shines. For throughout the album the group regularly include influences and elements you wouldn't expect.
From the keys in "High Pressure" to the hand claps in "Can't Get Away" and the melodic refrains that close out "Generator", the group generously add some diverse ingredients into their melting pot.
Another part of what also makes this album memorable is the manic energy it exudes. Tempos are regularly toyed with and the longest track clocks in at just over 3 minutes. There's also a refreshing amount of authenticity in place, with a lack of perfectionism allowing for a very human performance.
You'll find one-off guitar parts and effects, cracked vocals and more, but it all just adds to the charm and underlying sense of living in the moment that this album thrives on.
"Time & Space" is indeed a fitting title as this album is almost like a wormhole. A means of mental conveyance back to a time where the only people wearing Thrasher shirts could at least rip a kickflip and new music was sought out on compilations and zines as a necessity.
It's not a ride everyone will appreciate, but it has all the markings to at the very least become a cult classic lauded over by fans for years to come.
- Advertisement -