Suicide Silence
Suicide Silence
2017 Nuclear Blast Entertainment
A proper cleansing.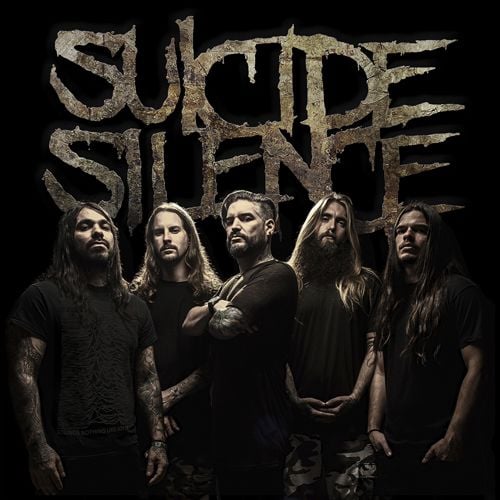 ---
For some fans, Suicide Silence's self-titled new album was written off before they had even heard a note of it. Early word that the effort would feature roughly 70% clean vocals led to the proverbial pitchforks & torches being raised throughout comment sections and the two songs that premiered in advance clearly displayed a widening divide amongst their audience.
The band themselves took the uproar in stride, often citing that deathcore fans just wanted more 'deathcore.' But once the dust settles, it's likely not the inclusion of clean vocals into their repertoire that will be the biggest talking point regarding this fifth full-length album. Instead it's the seismic shift in sound and style the band have undertaken overall. Enlisting producer Ross Robinson (Slipknot, Korn) wasn't merely a decision to push themselves and the passion of their performances.
His instatement also feels like a doorway to true hero worship as a meatier heaping of nü-metal's early hallmarks adorn this release. There's countless elements which sound like spiritual successors to the more ferocious and unrestrained moments found on Korn's first two albums. From anguished screams atop trudging breakdowns to chunky bass lines and lunging riffs, the band's obsession with Robinson's past works certainly shines through more than ever.
Unlike the Korn of now however, emotional catharsis is something that pervades this album. Robinson's trademark production style is as raw and analog as ever with the band repeatedly emphasizing emotion over structure. A blatant departure from the somewhat on-rails outlook that deathcore has evolved into, it's honestly hard to tell whether this album is a "White Pony" or a "Cold Lake".
Regardless, there is something thrilling about all the risks they take. "Conformity" shows frontman Eddie Hermida displaying some heartfelt cleans, with the song initially coming off like something Stone Sour would concoct, complete with some unexpected rock guitar soloing. While not revolutionary for metal, etc., it certainly is a big step outside of Suicide Silence's comfort zone. Then there's "Dying In A Red Room", a gloomy, rhythmic trudge that sounds like a cross between late 90's Deftones and the bluntest edge side of trip hop.
While tracks like these will certainly rally the keyboard warriors to battle, there are still a few elements of traditional deathcore to be found. "Hold Me Up, Hold Me Down" sounds like an early Korn exorcism (think "Daddy") as barbiturates slowly take hold. As the track eventually begins to collapse, a series of animalistic grunts and squeals emerge, seemingly in bitter defiance. "Don't Be Careful, You Might Hurt Yourself" also hews a bit closer to deathcore roots at times—but neither is a sure bet to win over longtime fans.
While a lot of the material is often hit and miss, the vulnerability found on the song "Run" is an avenue worth further exploration. Paired with Robinson's production, the track sounds like a numbed take on Glassjaw's Roadrunner debut, complete with an immediately catchy melodic chorus.
That said, more often than not "Suicide Silence" sounds like creative therapy that benefits the band more than the listener. You can hear their excitement at freeing themselves from genre expectations, but it doesn't help that these songs are often intrinsically loose. All too often an emotional release doesn't always demand repeated listens.
Sadly, after the initial shock wears off, the majority of what Suicide Silence have delivered here feels like a plodding, sonic oddity. The abundance of well-worn nü-metal tendencies feels more dated than revelatory and the songwriting is disjointed and lumbering. It has it's moments, but it lacks in the kind of payoff that invites repeated listens.
Still, it's hard not too appreciate the intent behind what they've created. It takes a serious set of balls to wholeheartedly walk away from nearly everything they've built over the last fifteen or so years. It's unquestionably an artistic commitment that the majority of the metal scene sorely lacks. While their peers are content to take a mere left turn with the inclusion of clean singing on a lone track or two, Suicide Silence are jumping the meridian into another lane entirely.
Rather than write for their fans or try to score a radio hit, they've written an album solely for themselves and going by the conviction on display here, whether you or I like it doesn't matter to them—which is actually kind of refreshing when you think about it.