Every Time I Die
From Parts Unknown
2014 Epitaph Records
Reenter the ring.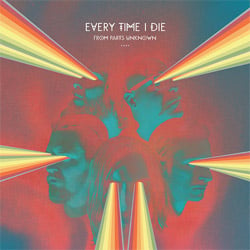 ---
When it comes to fan interaction there's two responses that elicit the most disdain from bands that have more albums than current members. There's of course the social media staple of 'when are you playing a show here?', but perhaps most infuriating is the disparaging call to 'play your old songs.'
"From Parts Unknown" is so sharp and fierce in its intent that it's almost a succinct response to the latter. Capturing the molotov mosh party of early efforts like "Hot Damn!" and grafting it onto a more robust songwriting suite, this is Every Time I Die at their most volatile.
In light of their recent works, this Kurt Ballou (of Converge) produced outing could admittedly be seen as a regressive affair. The catchy hangover sleaze of "Partying Is Such Sweet Sorrow" and tuneful remorse of songs like "Revival Mode" has been truncated, with howling mad aggression left to thrive in the absence
Surely the first impression "From Parts Unknown" gives is that of unrelenting hostility. Outside of the punky groove of "Decayin' With The Boys", the sullen piano-driven "Moor" and the Americana-tinged punk found on "Old Light" (featuring The Gaslight Anthem's Brian Fallon); this album is sure to paint venue floors with equal parts blood and sweat.
Proof of just how vicious a lashing is delivered comes early on the second track, "Pelican Of The Desert". Normally a bellowing cameo from Coalesce vocalist Sean Ingram would be a hard act to follow. With all the frenetic carnage and rabidity on display, Ingram winds up dwarfed amongst the madness.
As heated as it is, this seventh full-length bow isn't just fan service. Threaded in amongst the youthful abandon is the refined songwriting and chops the group have cultivated over the years—though admittedly toned down to accommodate the rekindled fervency.
This renewal of persistent velocity and maniacal progression is not without casualty though. The chief victim in the bands arms race—aside from the brevity resulting from constantly going full throttle—is the diminished power of their secret weapon. That being the prowess and turn of phrase mastery found in the lyrics of vocalist Keith Buckley.
Surely there's some memorable gems included here. But with most of the vocals being barked out like a mad dog it'll take repeated spins and a sense of comprehension that seems counterintuitive to the breakneck pace.
One wouldn't be wrong to have cited Every Time I Die to have occasionally been too brainy in the past. "From Parts Unknown" however feels like a gut reaction. A resounding statement that sixteen years in these road tested vets are still brave enough to go toe to toe with the young guns attempting to claim their throne and soundly win.
- Advertisement -