Destrage
Are You Kidding Me? No.
2014 Metal Blade Records
Totally kidding around.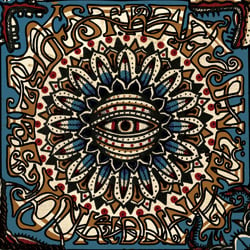 ---
To describe Italy's Destrage is a task not easily completed without resorting to the tried and true reviewers crutch of 'putting bands in a blender.' But as much as "Are You Kidding Me? No." sounds like a chunky purée of groups like Protest The Hero, SikTh and Dog Fashion Disco; it's frenzied enough to suggest that said proverbial blender would be powered by the 'Electric Gremlin' from "Gremlins 2".
A noisy, unhinged racket that mixes screeched vocals with grungy croons and crunchy riffs with progtastic shred clinics; it rightfully dazes during initial listens. Honestly though, it simply takes time to decipher the above elements. Especially when considering they are combined with a chaotic rhythm section, uninhibited songwriting, electronics, horns and everything else the band throw at you.
Songs like "Purania" and "Where The Things Have No Color" sport the hallmarks of Dog Fashion Disco & Mr. Bungle's perversely detached maturity. The invasion of uplifting melodic grandeur that coalesces in "Destroy Create Transform Sublimate" is also quite endearing. That Destrage knock it back to earth with symphonic rants and an anarchic drum machine onslaught you'd expect from Ephel Duath and Atari Teenage Riot shows just how far the band are willing to go.
The title track is likely the funnest display of the bands adrenalized histrionics and refined chops. Sounding like an modern metal version of Extreme's "Play With Me"; it also comes to an end with a barrage of outrageous classically oriented soloing. If that's not enough there's even some horns classy enough to grace the aftermath of a spaghetti western shootout.
There's certainly some leftovers of nu-metal's oft-maligned legacy present throughout in the snarky vocals and enthusiastic riffing in particular. But given the uncertainty, fierce technical ability and delirious musical schizophrenia; there's just as much of everything else.
Where you draw the line and how comfortable you are with having it blurred will be a big factor in your enjoyment here. Some bands settle for a melting pot when it comes to their craft. Destrage on the other hand have a much larger appetite, putting numerous melting pots inside a melting vat.
- Advertisement -