Astra
The Black Chord
Rise Above/Metal Blade 2012
Who needs NASA anyway?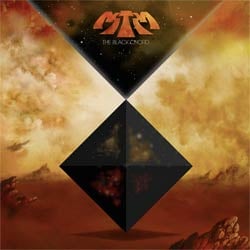 ---
Astra's "The Black Chord" is nothing short of a time capsule. A welcome blast of hashed out progressive psych rock that feels as though it came straight from the early 70's.
Right from the start the band set about taking the listener on a blissful journey. One full of lush soundscapes, tripped out soloing, flutes, whirring organ-led space trucking and hypnosis-inducing melody.
It's an adventure that would likely crash and burn if the band weren't so instrumentally talented; but the lean nature of their playing meshes well with the grandiosity of their songwriting.
While their last full-length "The Weirding" did turn heads, "The Black Chord" proves it was mere flight preparations for the journey to come — that of course being this intoxicating retro-tinged voyage through the cosmos.
Full of enthralling peaks and valleys, smoldering riffs and enough weighty atmosphere to keep any Pink Floyd & Yes fan happy; "The Black Chord" just may be modern psych rock's finest hour.
Whereas groups like Witchcraft and Graveyard have kept an earthen nature about them, Astra are truly an interstellar affair. Each song delivered drips pure artistry and engaging ascensive momentum. The instrumental interplay is euphorically dynamic and challenging, yet never gets in the way of the bigger picture.
Those without a predilection for psych and prog will find little enjoyment here. But listeners who are ready to move past the burnout boundaries of stoner rock; or perhaps even graduate from the more atmospheric moments of bands like Between The Buried And Me, may never come back down.