Gojira
Fortitude
2021 Roadrunner Records
Igneous rock.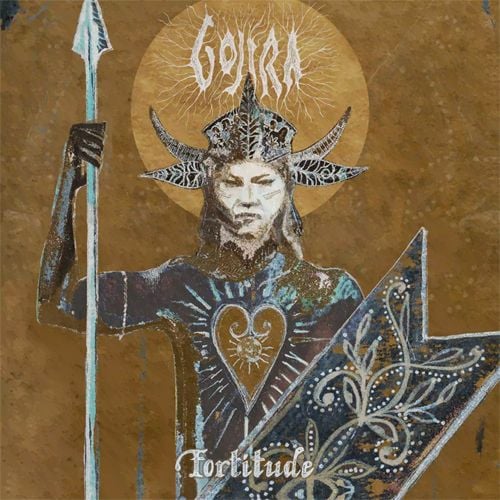 ---
With 2016 's "Magma" Gojira managed to shatter just about every expectation saddled upon them. A genuine breakthrough for the band, it was hailed by fans and critics alike. Even the Grammys took notice, bestowing nominations upon it in both the metal and rock categories.
While undoubtedly a career highlight, "Magma" was an opus born from a very dark place; a sonic conduit of sorts for the brotherly duo of frontman/guitarist Joe Duplantier and drummer Mario to process the 2015 death of their mother.
"Fortitude" on the other hand emerges under relatively happier circumstances (it was recorded pre-COVID-19 in case you were wondering.) On it the French progressive metal outfit freely delve into their influences and openly embrace the creative process without having a fresh cloud of grief hanging over their heads.
You'll still find all the hallmarks of a Gojira record here though. Shrill harmonic riffing, environmentally conscious lyrical content, stellar drumming from the ever-talented Mario Duplantier and some truly savage moments of aggressive discord are present in abundance. What may come as more of a surprise though is where else the band go.
The early single "Amazonia" hinted at the amount of risk Gojira are willingly to take. A self-proclaimed tribute to the tribal metal of Sepultura and the indigenous people of Brazil, the song is peppered with traditional Brazilian instrumentation.
In lesser hands it could be viewed as a mere homage or some questionable cultural appropriation. In Gojira's hands it has already served as a rallying cry and the focal point of a fundraising campaign which the band launched for The Articulation of Indigenous Peoples of Brazil.
"Amazonia" and the aforementioned campaign behind it galvanize the fact that despite their recent success, Gojira very much remain focused on the bigger picture. Their commitment to their craft has never wavered, nor has their passion for giving voice to environmentally and socially conscious topics through compassionate means.
That selflessness has allowed the group to cultivate a unique sense of enlightenment over the years. In a genre built upon confrontation, Gojira continue to take the higher road. That path has driven them to continually challenge themselves to better spread the ideals they hold dear.
The dynamic juxtaposition found on "Hold On", which opens with a near hymnal chant before settling into a strident stomp, represents another of those steps forward. Complemented by apparent gang vocals and virtuosic guitar, it shows off just how vast a single song from the band can be.
The title track represents yet another new facet. A brief melodic interlude, it opens with an off-kilter array of percussion and loose strums with vocal harmonies that almost lean towards gospel territory.
The metamorphosis of this unexpected moment of serenity arrives later, as the track seamlessly melds into the plodding follow-up "The Chant". That song finds the group employing a mostly clean vocal approach and some larger than life melodies, suggesting an inherent willingness to step outside of their comfort zone.
There's still plenty of heavy moments to be found though. The jittery "Into The Storm" sounds like a panicked descent into the orbit of an alien planet. The crushing, tribal laced groove that follows serves as the hostile welcome that ensues.
Album closer "Grind" treads a similar path, fusing quivering harmonics and pounding rhythmic grooves that leave a lasting mark. Bassist Jean-Michel Labadie gets his due on that track as well, repeatedly unspooling ever so slightly out of the pocket, increasing the lethality of the song's already prevalent air of malevolence.
After the bleakness of "Magma", it's hard not to interpret "Fortitude" as a brighter experience. It sports broader ideas and is far more open-ended in both scope and aesthetic. As you might suspect though, this rapid sonic expansion isn't without faults. There's some pacing issues and a few loose spots that wind up falling a bit flat. With such a stark contrast, it may also be not what you had hoped for in a follow-up to "Magma".
The band's elevation to headliner status in recent years hasn't gone unnoticed. "Fortitude" in a way feels like them embracing that change—if not at least being empowered by it to push further outward.
As such, "Fortitude" at times can almost feel transitional, a strategic assault intent on breaking new ground. The end goal doesn't seem to be commercial success though, but rather the cementing of a legacy to further both their art and their message for the generations to come.
Buy it now on Amazon | Apple Music
- Advertisement -