He Is Legend
It Hates You
Tragic Hero 2009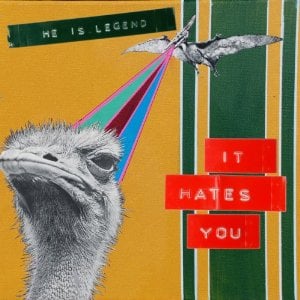 ---
While some of the more dedicated followers of He Is Legend's flock may have questioned if their departure from the Christian metal haven of Solid State Records, and their subsequent alignment with the seemingly secular Tragic Hero Records, meant a change of faith; even more were probably left wondering which direction the band were headed in with "It Hates You". For as maligned as 2006's "Suck Out The Poison" may have often been in the eyes of some critics, it was those familiar with the groups previous work that were the most judgmental.
A culmination would be the best way to describe "It Hates You", an album that takes the best parts of bands like Faith No More, Glassjaw, Every Time I Die and a litany of other eclectic influences and merges them into this, perhaps this outfits highest peak. A colorful, involving and at times intoxicating listen, there's a glistening sheen of pop sensibility at play in numerous songs on this effort. However, this sweetness often only coats a rotten core, making for a deceptively enjoyable experience.
Aiding this is a level of class which He Is Legend adhere to that keeps them well above the usual suspects involved in the emo wet blanket party. In fact, one of the most defining traits of this album is its deviously vampish nature. But while dark and seemingly gothically tinged, there's also a biting sense of humor at play that keeps the material quirky and relevant. Where as a band like Aiden come off like the equivalent of a "Twilight" dry hump, He Is Legend's latest incarnation inches them closer towards a "True Blood" level of humanity, intricacy and ridiculousness.
Truly though intricacy is what greatly propels these songs forth. From the rigid and sinewy frenetic rhythm section to the atmospheric, driving riffs and band frontman Schuylar Croom impassioned howls, there is little the band won't try. Be it the return of smoky and soulful female vocal pairings that bring to mind Open Hand or the repurposing of a classic reggaeton drum break on "Cult Of She". Such boldness means little is off limits and makes for an even more perverse dichotomy of themes and genre mixtures to organically develop. This aforementioned concoction is made even more volatile by the bands tendency for subtle epic song progression.
Whether they be belting out some heady southern riffing or acoustically exorcising their demons at a starkly beautiful pace, He Is Legend's ability and penchant for bitter sweet hooks quickly elevates them to the next level. True Croom's brashness can be polarizing at times and some may find the density of layering and stylistic overlapping to be suffocating. But for those who have an open mind and can handle intimacy mixed with intensity, the peculiarly abrasive melodic deviancy that comprises "It Hates You" will surely be of legendary status.